Larry's Biography
Larry Fitzgerald Biography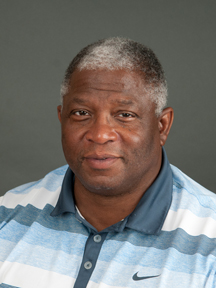 Larry Fitzgerald is a giant of Twin Cities sports media : newspaper, Internet, radio and television. For 38 years he has brought his unique perspective and social consciousness to the world of sports as a writer, producer, talk show host and commentator. Larry has been the sports editor and columnist with the Minnesota Spokesman-Recorder , one of the Midwest's strongest and oldest African American news journals, for 31 years.
Fitzgerald first graced the airwaves in Minnesota in 1978 on KMOJ-FM 89.9, the Twin Cities' premiere African American community-based radio station. His broadcasting credits have gone through several incarnations up and down the dial with shows such as Higher Ground , Sports Beat , Inside the NFL , and the popular Monday Night Football Show.
Fitzgerald was the first in Minnesota to weekly feature Minnesota Vikings' star players on radio an hour before the game before a live audience at Champions Sports Bar, Champps Sports Cafe, and America 's Original Sports Bar at the Mall of America. He is the only reporter to ever get rookie sensation Randy Moss, in 1998, to do a live on-location interview.
His current column, titled Fitz Beat , is featured in the Spokesman-Recorder and at www.Larry-Fitzgerald.com . Sports Beat, which he hosted from 1985-91, was his daily sports radio magazine show, which he cultivated to success and eventually syndicated, selling the program rights to ESPN, the world sports leader.
Fitzgerald has worked with Voyager Broadcasting AM-630, 1030 AM-WDGY, and KMAP AM 1370. He has lent his talent for exceptional sports reporting to such entities as Almanac , an Emmy Award -winning TV news magazine show, for seven years.
Almanac airs Fridays, 7-8 PM, on KTCA Channel 2-17, Twin Cities Public Television.
In 1990 Fitzgerald was hired by KFAN Radio and co-hosted On the Line-On the Fan with Eric Nelson on the Twin Cities' first all-sports radio station. He also hosted a Minnesota Timberwolves post-game radio show aired live at Target Center in 1994 after leaving KFAN.
Fitzgerald co-founded the National Programming Network with Reggie Flake and Mike Croke. At NPN, Fitzgerald collaborated with former Minnesota Vikings Head Coach Dennis Green. Fitzgerald was named Managing General Partner and signed Green to a contract that lasted eight years. He then hosted and produced his weekly call-in show Vikings Beat on KMOJ-89.9 FM Mondays in drive time, 4: 30-5:00 PM, and on Thursdays the Dennis Green Radio Show over AM 950 KSGS from 5: 30-6:00 PM and nationally over www.DennisGreen.com powered by Space 150.
Fitzgerald's illustrious career started after attending Indiana State University in Terre Haute , Indiana , where he played offensive tackle on scholarship for Tom Harp from 1975-77. He majored in radio-TV communications after transferring from Indian Hills CC in Centerville , Iowa . Fitzgerald transferred to Indian Hills in 1972 after leaving Prairie View College just outside Houston , Texas.
From 1973-74 Fitzgerald starred at defensive tackle and helped lead the Golden Falcons to the school's first undefeated season, 10-0, in 1974, and to the National Junior College Championship game, the 9th Annual Wool Bowl, in Roswell , New Mexico , Nov. 29, 1974.
Fitzgerald was born and raised in Chicago , Illinois , to parents Robert and Sally Fitzgerald. He graduated from Fenger High School , where he was a two-time All-American defensive tackle for Frank Esposito. Fitzgerald was a four-year starter and led Fenger to the Public League Championship game three times.
Fitzgerald attributes much of his professional success and inspiration to his late wife Carol. His wife of 24 years, they met at Fenger High School . Sadly, Carol died of breast cancer on April 10 of 2003. They are the proud parents of sons Larry Jr., 33, and Marcus, 31.
Larry Jr. was a two-time All-American at Holy Angels High School and a two-time All-American at the University of Pittsburgh , where he played for Walt Harris . Larry Jr. was the 2003 Heisman Trophy runner-up to Oklahoma 's Jason White . He was selected the 2003 Walter Camp College Football Player of the Year.
In 2004 Larry Jr. was selected by Arizona Head Coach Dennis Green and General Manager Rod Graves with the third pick of the first round. In six years Larry Jr. has become one of the best and most popular NFL players. Four times he's been selected All-Pro. In 2008 Larry Jr. established NFL all-time post-season records with 30 receptions for 546 yards and seven touchdowns while helping lead the Cardinals to the franchise's first Super Bowl, XLIII . Larry Jr. was selected the 2009 Pro Bowl MVP and is one of the few athletes in history to be featured on the cover of EA Sports' popular NFL Madden Live video game.
Marcus is the first child of Larry and Carol to graduate after starring for three years at Marshall University , and after a stellar career at Holy Angels in Richfield . A three-year letterman, Marcus graduated in July 2007 with his B achelor of Arts Degree . He has had tryouts at wide receiver with the Arizona Cardinals , Minnesota Vikings, and California Redwoods of the UFL.
In February 2003, Larry Fitzgerald was honored with the Heritage Award presented by the Minnesota State Baptist Convention for outstanding community service in the field of sports journalism . In 2009 Fitzgerald became the first journalist in American sports history to cover his own son in a Super Bowl.
Super Bowl XLIII led to Fitzgerald being featured in columns written worldwide by ESPN 's Rick Reilly, the Boston Globe 's Dan Shaughnessy , USA Today 's Jarrett Bell,and the Washington Post 's Michael Wilbon . On TV he was featured by Pardon the Interruption , Show Times , Inside the NFL with James Brown and Phil Simms , CNN, CNBC, ESPN, ABC, CBS and NBC.
Fitzgerald is the Managing General Partner of the National Programming Network (Radio Syndicate). He reports on sports and major sporting events in Minneapolis on KMOJ-89.9 FM, WDGY-AM 740, WCCO-AM 830, and KARP.
Larry founded the Carol Fitzgerald Memorial Fund in 2003, a 501-C3 nonprofit organization raising money annually for breast cancer-HIV research and urban education. He hosts his own website, www.Larry-Fitzgerald.com , featuring cherished family and career photos of friends and stories written on the Fitzgeralds. On February 7, 2010, Larry Fitzgerald covered his 37th career Super Bowl