Greatest week in sports?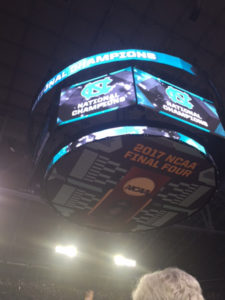 It's arguably the greatest week in sports. The cry of "play ball" is ringing across the United States with the boys of summer. Major League Baseball kicks off, all 30 teams, and in Minnesota the Twins open against the Kansas Royals at Target Field.
Last year, the Twins dropped 103 games, while the Royals have been in two of the last three World Series. The Twins play 162 games — baseball is indeed a marathon not a sprint.
The NCAA Men's basketball championship game takes place this week as North Carolina 32-7 goes for their 6th National Championship against Gonzaga 37-1.
The Tar Heels lost last year's title game to Villanova at the buzzer. They will try to do what Kentucky did in 1997-98, win the title after losing it the year before.
It's also Masters week, the un-official beginning of the golf season. Due to back issues, Tiger Woods will miss the historic 20th anniversary of becoming the first Black man to win a major championship. He won the Masters by a record 12 shots.
Friday, April 7, is the 13th Annual Carol Fitzgerald Memorial Fund Benefit (CFMF). The event is one of the biggest local happenings in Minneapolis, in honor of this journalist's late wife and mother to Larry Fitgerald, Jr. and Marcus Fitzgerald.
Carol was a tireless Minnesota Department of health STD investigator. She had passion for caring and sharing and fighting for people. She died April 10, 2003 of breast cancer. Since that year, through the CFMF and Larry Fitzgerald First Down Fund annual events, the Fitzgerald family has raised close to $2 million to benefit organizations locally and nationally that assist in HIV prevention, breast cancer awareness and urban education.
The sports-themed gala features NFL Man of the Year and 10-time Pro Bowl star Larry Fitzgerald, Jr. He is the first Minnesota-born athlete to win the Walter Payton award; he will be on-hand to sign autographs. Also, CFMF grants will be awarded to this year's winning community organizations.
The event features a live and silent auction of incredible sports memorabilia. North Point Health & Wellness CEO Stella Whitney-West, one of .Carol's best friends, will be the keynote speaker, with Mike Phillips as the headline entertainer.
Phillips has played with Michael Jackson, Prince and Stevie Wonder, and at the inaugural balls for both President Clinton and President Obama. It's an incredible sports week highlighted by this annual event.
The 13th Annual Carol Fitzgerald Memorial Fund Benefit Gala takes place Friday, April 7, at the Minneapolis Event Center, 212 SE 2nd St., Minneapolis. All proceeds go to the Carol Fitzgerald Memorial Fund Benefit. Call 612-770-4575 for more information.
On Saturday, April 8 from 12 to 3 pm, community members are invited to the 13th Annual Carol Fitzgerald Memorial Fund Community Celebration at Martin Luther King Center, 4055 Nicollet Ave. S., Minneapolis. For tickets call 612-619-0102.
Larry Fitzgerald can be heard weekday mornings on KMOJ Radio 89.9 FM at 8:25 am, on WDGY-AM 740 Monday-Friday at 12:17 pm and 4:17 pm, and at www.Gamedaygold.com. He also commentates on sports 7-8 pm on Almanac (TPT channel 2). Follow him on Twitter at FitzBeatSr. Larry welcomes reader responses to info@larry-fitzgerald.com, or visit www.Larry-Fitzgerald.com.