Fitzgerald Scores Career Touchdown No. 100!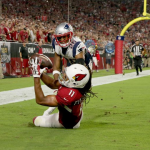 Without quarterback, Tom Brady and tight end Ron Gronkowski, the New England Patriots survived the Arizona Cardinals on NBC's Sunday Night Football.
Cardinals kicker Chandler Catanzaro missed a 47-yard field goal, and the Patriots prevailed 23-21.
"We were obviously not ready to play," Cardinals coach Bruce Arians said. "They outplayed us, and we will learn from it."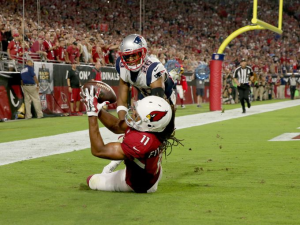 The Patriots were the only team from the AFC East to win on Sunday with the New York  Jets, Buffalo Bills, and Miami Dolphins all losing. Bill Belichick and the Patriots again proved they know how to win big games.
Quarterback Jimmy Garoppolo did just enough in his first NFL start to lead the Patriots to victory, throwing for 264 passing yards.
New England is the only NFL team to win 12 division titles in 13 years, and they are off to another strong start; they have won 12 or more games in six consecutive seasons.
New England's win at Arizona spoiled the NFC West champion Cardinals' home opener and the great performance by Larry Fitzgerald, Jr., who caught his 99th and 100th career touchdowns.
His 100th touchdown reception from quarterback Carson Palmer lit up University of Phoenix Stadium and gave the Cardinals a 21-20 lead in the fourth quarter, their first of the game.
Fitzgerald's 100th touchdown was a spectacular diving, over-the-shoulder catch. He's now tied for eighth all-time on the touchdown list with Hall of Famers Steve Largent and Tim Brown.
"I'm glad to put it behind me so I don't have to talk about it anymore," Fitzgerald said.
Fitzgerald also respond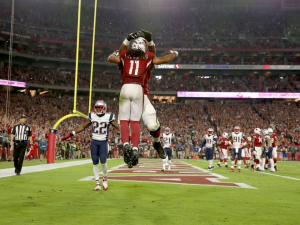 ed to and NFL Network report that he was telling people close to him that he was retiring after the season.
" You know, I do
n't talk about the future," Fitzgerald said. "I don't even know what I'm having for dinner tonight, let alone what I'm doing next year.
"I signed another year for a reason," he added. "I believe in what we're doing here. I believe in the guys that I have in this room, the head coach (Bruce Arians) his staff. (Owner)Michael Bidwill is doing everything he can to put us in a position to win. That's where my mindset is at. What I'm doing next year is of no importance. This is the year. And I want to make sure we make it great."
Fitzgerald also passed Torry Holt for 14th place on the NFL's all-time reception list. He finished the season opener with eight catches for  81 yards and two touchdowns.