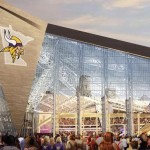 Over the last six weeks we've witnessed the slow, steady demise of a once 5-0 Vikings football team to consistent injury, kicking game and coaching defects. The combination has jeopardized this once promising season. It's easy to point the finger, but all 32 teams understand in the NFL that it's not how you start but how you finish.
With five weeks left, the Vikings can still rescue their season by catching Detroit in the NFC North or qualifying as a Wild Card. Three of the Vikings' remaining five games are at U.S. Bank Stadium, where they are 4-1. In a couple of weeks they could be getting running back Adrian Peterson back, so keep hope alive.
This week on Thursday night, buckle up for the hottest team in the NFL. The 10-1 America's team Dallas Cowboys will be here for a prime time showdown on NBC.
Dallas lost their first game to the New York Giants 20-19 and since have reeled off 10 straight wins. They have the dynamic combo of rookie sensations quarterback Dak Prescott and the NFL's leading rusher Ezekiel Elliott. The NFL has not had a breath of fresh air like this combo in a long time.
Prescott has taken Tony Romo's team to the next level. He has protected the football, having only two interceptions this year. For an All-Pro quarterback, that's great. For a rookie? That's unheard of.
He's thrown for 2,835 yards and 18 touchdowns and has been brilliant in the fourth quarter, only the fourth rookie QB in NFL history with six consecutive multi-touchdown games. He has a QB rating of 108.6, third-best in the NFL. Only Tom Brady of New England and Matt Ryan of Atlanta are rated higher. He has been nothing short of sensational, plus he has the ability to move in the pocket and run — he has five rushing touchdowns.
Elliott is the best running back in football. He leads the NFL in rushing with 1,199 yards and 11 touchdowns, averaging 109 yards a game. Dallas has not had a rookie running back like this kid since Tony Dorsett.
Dallas is loaded with talent and experience. Dez Bryant is among the best receivers in the NFL, and tight end Jason Witten is a future Hall of Fame player.
The Vikings will have their hands full dealing with these Cowboys, who have maybe the biggest, most physically dominating offensive line in the NFL. Looking closely at the Cowboys reveals that they have feasted on the likes of San Francisco, Cleveland and Chicago, who are a combined 3-31.
The Vikings have played a much tougher schedule than Dallas and beat the Giants, remember, the only team to beat Dallas. However the Vikings lost to Chicago.
Dallas is listed as a 9-2 favorite to reach Super Bowl 51 in Houston. They are 5-0 when they score 30 points or more and 5-0 when they score 24 points or more. They are 0-1 when they don't score 20 points. That's where the Vikings defensive unit can make this game interesting.
Head Coach Mike Zimmer used to work for the Cowboys, so he has knowledge of how the Cowboys' machine operates. The Vikings now need to go 5-0 to match last year's 11-5 record. It's a home game against the Cowboys, and you should be able to win at home.
Larry Fitzgerald can be heard weekday mornings on KMOJ Radio 89.9 FM at 8:25 am, on WDGY-AM 740 Monday-Friday at 12:17 pm and 4:17 pm, and at www.Gamedaygold.com. He also commentates on sports 7-8 pm on Almanac (TPT channel 2). Follow him on Twitter at FitzBeatSr. Larry welcomes reader responses to info@larry-fitzgerald.com, or visit www.Larry-Fitzgerald.com.